A Fun Game for the Whole Family
Created
by Richard A. Gardner, M.D.
and Robert Abbott
Playing What's That on My Head? is fun! In the context of an exciting and challenging game, the players learn logical reasoning. It is a game that has children clapping and shouting with delight. When families play together, everyone has an enjoyable time.
Players become so swept up in the game that they may forget the time. Players try to identify the unknown numbers on their own heads from clues provided by other players, all of whom have combinations of unknown numbers on their heads. Each player in turn responds to a clue card. Each clue provides information to the other players. Ten-sided dice are also used in the clue-giving process. There are 90 clues at each of the four levels of play. The different levels provide the right degree of challenge for everyone. By clicking here, you can view selected clue questions from the actual game.
At Level 1 children clap their hands when a player's guess is right and respond with a variety of animal sounds (barking dogs, quacking ducks, hooting owls, etc.) when a player's guess is wrong. The barnyard effect becomes infectious, adding to the children's excitement. Pre-teens, adolescents, and adult players begin at Level 2 and then, as their experience and expertise expands, they can progress to higher levels. Level 4 will challenge even the most experienced players. Regardless of the level, a sense of excitement is generated in which learning is facilitated while everyone is having fun.
What's That on My Head? is a three-generational game that can be enjoyed by everyone. It is a game that provides challenges for children, adolescents, and adults. Players can play with others their own age, and families typically enjoy the fun, camaraderie, and bonding that the game predictably provides. Schools will also want to use this game in classes for the gifted and talented, as well as in learning-disabled groups, as a tool for helping to teach logical reasoning.
Creative Therapeutics is so convinced that players will enjoy What's That on My Head? that it will provide a full refund (minus postage and handling charges) within 30 days to any purchaser who does not find the game stimulating and enjoyable.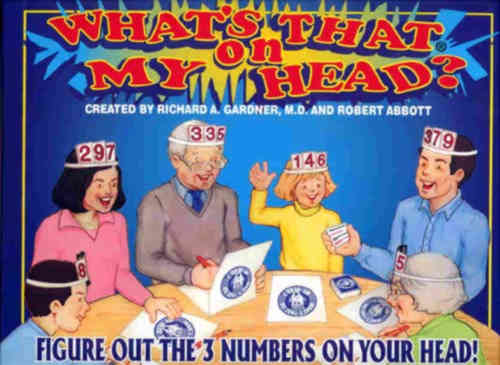 ---